How to Create a Banquet Event Order Template
There is never enough time in the day, especially if you're an event professional.
That's one of the reasons we created Tripleseat's sales and event management platform and every feature you need to streamline the booking and planning process.
One of the biggest time-wasters is creating new documents for each event, cutting and pasting from old Word documents, spreadsheets, or banquet event orders (BEOs). Then, you trade endless emails with the client with every change you each make, sending a brand-new version of the BEO.
Tripleseat makes creating documents so easy that you actually might start to enjoy this part of the event management process. With just a few clicks of the mouse, you can build your own custom BEO template that reflects your restaurant's unique style. And you can provide BEOs to your client via discussions and the guest portal, where they can view and comment on the BEO details. 
No more endless emails. You and your customers can make changes to documents seamlessly and communicate the changes in real-time. Streamline your planning process with Tripleseat's banquet event order form templates that can vastly improve the experience of creating BEOs and their overall appearance.
Choose from unique Banquet Event Order templates
If you are still not convinced that Tripleseat can save you a ton of time and help you grow your business, then feel free to download a standard Microsoft Word Banquet Event Order template that we have designed as a gift to you. As you are filling them out manually, keep in mind it only takes 15 seconds to complete them using our Tripleseat web application. Our banquet event order template downloads can keep the entire process simple and efficient, regardless of what the event calls for.
Choose from one of the options below to get started on an appealing BEO for your next event:
Gray One-Column BEO Template
This Banquet Event Order Template is clean and simple.
Blue Two-Column BEO Template
A grid-based, two-column BEO template that displays event details in separate, organized sections.
Gray Two-Column BEO Template
A two-column Banquet Event Order template that keeps all event details quickly accessible by elegantly listing them in a boxed column.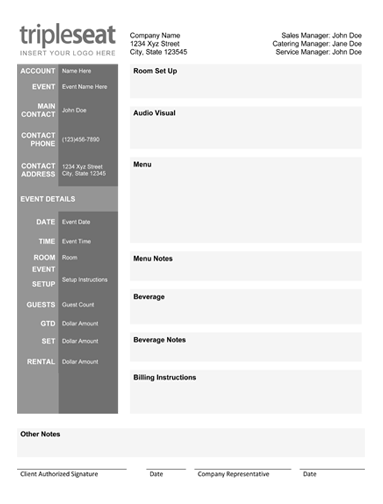 Basic Two-Column BEO Template
A simplistic two-column design that has all you need in a Banquet Event Order.

It's time to use the right tools for event management
Using the Banquet Event Order template download that works best for you, you can make event planning easier than ever. Combined with the rest of our sales and event management application features, you can streamline the entire event planning and management process.
Tripleseat is ready to give you everything you need to make your event a pleasant experience from beginning to end. Not using Tripleseat yet? Schedule a free demo online.