Why EventUp Will Help You Increase 2022 Revenue
Private events are the bread and butter (pun intended) for any restaurant or venue since the revenue margins are anywhere from 10% to 30%. Increasing the private events held at your space by just one event per month can mean huge revenue growth over the course of a year.
But why stop at just one new event per month?
Being listed on EventUp exposes your venue to hundreds of thousands of event planners, all who are potential new leads for you and your venue. EventUp provides the largest network of event venues, making it the number one choice for event planners to browse, book, and plan their social and corporate events. This powerful site is dedicated to supporting event planners to plan their perfect event and driving leads.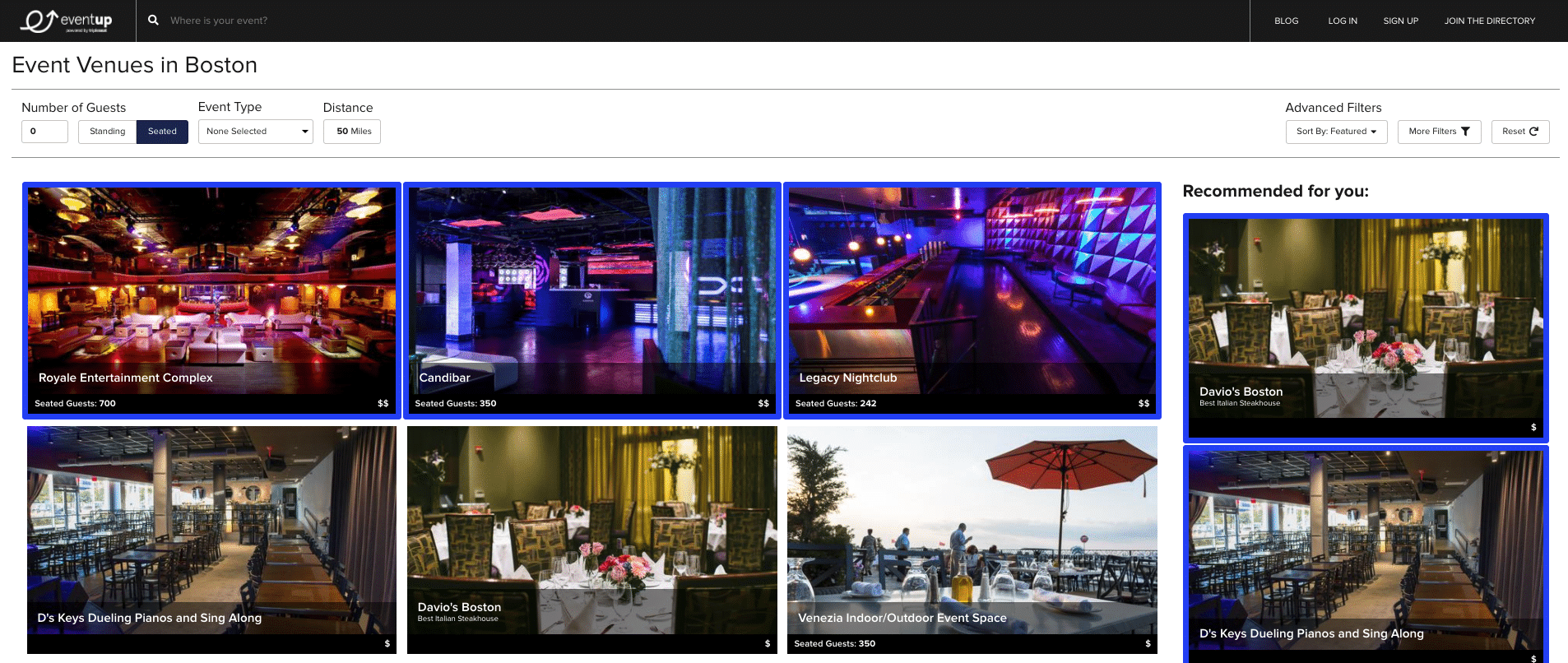 EventUp started in 2011 with a bold idea: to change the way people book events. EventUp is the largest event spaces directory with an emphasis on unique spaces. Think museums, art galleries, wineries, and even professional ballparks.
With EventUp, event planners are encouraged to create an account; this sets up a unique user experience between the event planner and the venue. After the event planner browses through venues in their desired city, narrowing down on a few that could potentially be a good fit for their event, the event planner can easily submit multiple requests to venues. The two-way communication all happens within the same portal. Event planners can save messages, set favorite venues, and explore educational content all from one view. Once you and the event planner have agreed on moving forward with a proposal – you can simply push that lead to your event management platform, like Tripleseat, to complete the full sales cycle, event execution, and future marketing potential.
Beyond the prominent exposure, you gain access to by joining the largest marketplace for event spaces, The Tripleseat Booking Network runs marketing initiatives that put the focus on exposing the venues to all event planners.
Top organic search results for event-related keywords. Both directories were built around search engine optimization (SEO) which means that our directories and your venue are the top organic search result at the very moment when event planners are searching for their next venue.
Blog posts written by professional writers. Both directories focus on producing top quality content with blog posts and handbooks written by professional writers, to help both the professional and the everyday event planner with upcoming trends, tips and tricks, style ideas and so much more. Check out the EventUp blog

.

SEO specialist managing paid social campaigns. This work helps to further expand our viewership and reach across Google and social media.
Venue spotlight posts highlighting photos and unique features. These posts are shared across our social networks, including Facebook and Instagram, exposing your venue visually to our network.
Promotion via Tripleseat's marketing content. We love to put the focus on our venues in some of our own blogging and social media marketing efforts,. One of our favorite ways to highlight our venues is crafting listicle features to make it easier for event planners to locate the venue that they need. We craft all kinds of unique lists such as coolest bathrooms, best rooftops, weddings, venues with pool tables or swimming, the newest breweries, or holiday venues.
Featured blog post opportunities. A blog post dedicated solely to your venue, in which you can showcase photos of your space and past events, and an in-depth description of your event capabilities, menu options, and unique offerings. These posts are written either by our professional team or your own in-house marketing team. They are featured on our blog and shared across all of our social accounts including Facebook, Instagram, Twitter, Pinterest, and LinkedIn, introducing your venue and event space to our expansive social network and reach.
With EventUp running marketing campaigns on their venues' behalf and leads flowing in, the directory will quickly become your favorite marketing partner.
Get started to get more event sales
If you have not yet created an EventUp profile or would like to update your profile, manage your listings in Tripleseat by going to Settings> Leads & Tripleseat Booking Network > Tripleseat Booking Network. The edits you make here will update your EventUp listing.
Check out these resources to get the most out of your EventUp listings: